Bible Verses and Prayers
for Families and Survivors of MMIWG
"He will wipe away every tear from their eyes, and death shall be no more, neither shall there be mourning, nor crying, nor pain anymore, for the former things have passed away."
~ Revelation 21:4
PSALM 23
The Lord is my shepherd; I shall not want.
He maketh me to lie down in green pastures: he leadeth me beside the still waters.
He restoreth my soul: he leadeth me in the paths of righteousness for his name's sake.
Yea, though I walk through the valley of the shadow of death, I will fear no evil: for thou art with me; thy rod and thy staff they comfort me.
Thou preparest a table before me in the presence of mine enemies: thou anointest my head with oil; my cup runneth over.
Surely goodness and mercy shall follow me all the days of my life: and I will dwell in the house of the Lord forever.
A Prayer for Comfort in Loss
I cry for those of us left behind, for the lonely ones with hollows in our hearts. I ask You to comfort us, give peace, restore hope, and lavish us with love, family, and belonging. In the depths of loss, meet us with Yourself.
I cry for the legacy this loved one leaves, for the ways the world has been made different by their presence, for the memories that become both more beautiful and more painful on this side of death.
And I pray that the work you have accomplished in this remarkable life will grow deeper, wider, and stronger in the days to come, uninhibited by a weak opponent like death.
~ Gregory Coles
A Prayer in Times of Grief
"Be merciful to me, Lord, for I am in distress; my eyes grow weak with sorrow, my soul and body with grief" (Psalm 31:9). My heart is broken, my mind exhausted. I cry out to you and hardly know what to ask. All I can do is tell you how I feel and ask you to "keep track of all my sorrows. . .. [collect] all my tears in your bottle. . .. [and record] each one in your book" as I pour them out to you (Psalm 56:8). Amen.
~ Unknown
One night I dreamed a dream. I was walking along the beach with my Lord. Across the dark sky flashed scenes from my life. For each scene, I noticed two sets of footprints in the sand, one belonging to me and one to my Lord.
When the last scene of my life shot before me I looked back at the footprints in the sand. There was only one set of footprints. I realized that this was at the lowest and saddest times of my life. This always bothered me and I questioned the Lord about my dilemma.
"Lord, You told me when I decided to follow You, You would walk and talk with me all the way. But I'm aware that during the most troublesome times of my life there is only one set of footprints. I just don't understand why, when I need You most, You leave me."
He whispered, "My precious child, I love you and will never leave you, never, ever, during your trials and testings. When you saw only one set of footprints, it was then that I carried you."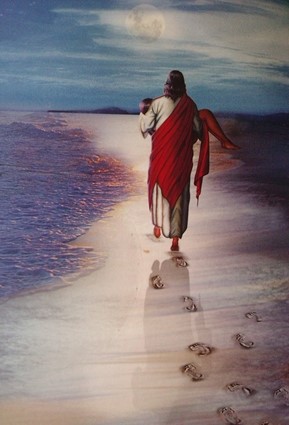 Prayer of Condolence
We pray for all whose lives have been touched by tragedy, whether by accident or a deliberate act.
For those who mourn, immerse them in your love and lead them through this darkness into your arms, and light.
For those who comfort, be in both the words they use and all that's left unspoken; fill each heart with love.
We ask this through Jesus Christ, whose own suffering brought us life, here and for eternity. Amen.
~ Unknown

A Prayer in Time of Loss
The world has grown quiet since her/his voice has been silenced. Please help me rise above my sorrow, oh God. Imbue my spirit with your loving kindness and comfort. Fill my soul with your everlasting love. Send your angels to lift me up, oh God, so they can reveal your glory to me once more. Amen.
~ Unknown
"Oh, Great Spirit, whose voice I hear in the wind, Whose breath gives life to all the world. Hear me; I need your strength and wisdom.
Let me walk in beauty, and make my eyes ever behold the red and purple sunset. Make my hands respect the things you have made and my ears sharp to hear your voice. Make me wise so that I may understand the things you have taught my people.
Help me to remain calm and strong in the face of all that comes towards me. Let me learn the lessons you have hidden in every leaf and rock.
Help me seek pure thoughts and act with the intention of helping others. Help me find compassion without empathy overwhelming me.
I seek strength, not to be greater than my brother, but to fight my greatest enemy Myself. Make me always ready to come to you with clean hands and straight eyes.
So when life fades, as the fading sunset, my spirit may come to you without shame."
Prayers for the Heart During Loss
Bless those who mourn, eternal God, with the comfort of your love that they may face each new day with hope and the certainty that nothing can destroy the good that has been given. May their memories become joyful, their days enriched with friendship, and their lives encircled by your love.
~ Unknown
"He heals the broken hearted and binds up their wounds." 
~ Psalm 147:3
"Blessed are those who mourn, for they shall be comforted."  
~ Matthew 5:4
"The LORD is near to the broken hearted and saves the crushed in spirit."
~ Psalm 34:18
Mother, sing me a song
That will ease my pain,
Mend broken bones,
Bring wholeness again.
Catch my babies
When they are born,
Sing my death song,
Teach me how to mourn.
Show me the Medicine
Of the healing herbs,
The value of spirit,
The way I can serve.
Mother, heal my heart
So that I can see
The gifts of yours
That can live through me.